Last night, a gathering was held at
Pilgrim Uniting Church
, '
Stronger Together: A service of solace
', to offer support for those grieving the state execution by firing squad of eight people in Indonesia. They had been convicted of drug charges, and the group included 2 Australians, 3 from Nigerian including  gospel singer Okwudili Ayotanze, one from Ghana, one from Brazil and one from Indonesia.
The eight death row inmates walked onto the killing field singing religious songs before they were executed. Pastor Karina de Vega, who had been present at the execution, said, "They sang one song after another. Praising God. They sang a few songs together, like in a choir. The non-Christian I believe sang from his heart. It was such an experience." The 8 men refused to wear blindfolds, preferring to look ahead and face their executioners. The group was shot by a 13-member firing squad while singing 'Bless the Lord O My Soul'. Pastor Karina said the men conducted themselves with 'dignity and strength until the end'.
 In recent months, Amnesty International had held a campaign, 'Keep Hope Alive', to seek a change to the death penalty and imminent executions in Indonesia. The campaign is associated with Amnesty's long standing opposition to the death penalty around the world but it became very personal to Australians who have followed the saga of the '
Bali 9'
, and in particular
Andrew Chan
and
Myuran Sukumaran,
who  received the death sentence and had been on death row for many years.
During their time in
Kerobokan Prison
in Bali, Andrew Chan had become a Christian and his life had been transformed. Recently he was ordained a Christian pastor and led services in the prison. He is reported to have said, "When I got back to my cell, I said, 'God, I asked you to set me free, not kill me.' God spoke to me and said, 'Andrew, I have set you free from the inside out, I have given you life!' From that moment on I haven't stopped worshipping Him. I had never sung before, never led worship, until Jesus set me free."
Myuran Sukumaran
Myuran also converted to Christianity while imprisoned. He also become an accomplished painter, painting right up until the end of his life. He taught English, computer, graphic design and philosophy classes to prisoners. Prior to his death, he was working on a Fine Arts degree.
Both Andrew and Myuran had given their lives in prison to inspire, encourage and support others to make the most of this one precious life and to get involved in meaningful pursuits rather than waste their lives.
British grandmother Lindsay Sandiford, on death row in Indonesia, said of Andrew and Myuran:
"I didn't know those men at the time they committed those crimes 10 years ago.
What I can say is that the Andrew and Myuran I knew were men who did good and touched the lives of a great many people, including myself.
.
.t
he men shot dead were reformed men - good men who transformed the lives of people around them. 
Their senseless, brutal deaths leave the world a poorer place.
"
Richard Branson said: 
(paraphrasing
Oscar Wilde
): 'The only difference between saints and sinners is that every saint has a past while every sinner (should have) a future.' "Everyone deserves a second chance. Let's do away with the death penalty once and for all."
Cheryl Lawrie, a prison chaplain with the Uniting Church in Australia, said: 'I hope one consequence might be that we embody the mercy that we wanted the Indonesian government to show - that I might show mercy to all those who are fighting for a second chance here in Australia, especially those I have too easily written off. That feels like a fitting tribute I can make to two flawed and remarkable men'.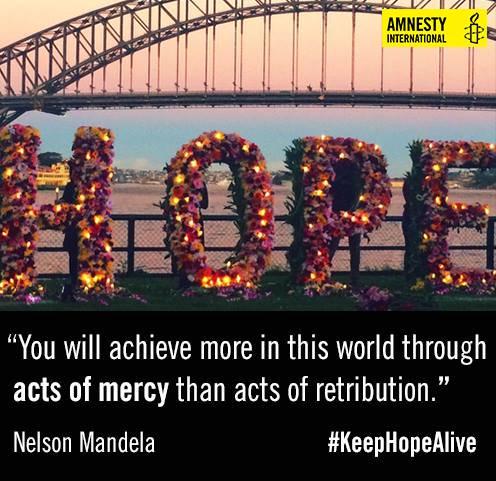 A young girl is guided to place a candle on a flower wall that reads "#keephopealive" as part of an Amnesty international vigil for Andrew Chan and Myuran Sukumaran. Photo: Getty Images